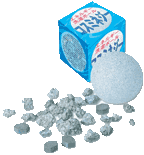 The scientist of Scottland Mr. Robert Brown in.1827 had found the small molecule of pollen keep on an irregular movement in the water, during his observation through the microscope to the plants. But he also found any substance that suspended in the water have the same speedy vibration movement. This is so called " Brownian Movement ".
For this knowledge we can easily understand how the washing machine work the simple turning, rolling, or collision can clean the clothes. So if we put one ball into the water, wash with clothes, we can get not only the fresh clean clothes but also saving time /water/washing powder, and most of all is to dissolve the toxic substance, and some tiny germ.
A. The small molecule keep an irregular movement like the sharp of the teeth of the
saw.
B. Through the strong dissolve function to strip away the dirt of the fiber.
C. The fiber of clothes.
D. The bio-ceramics that have been treated by cosminergy, the function of the vibration can deeply into the fibers.

BROWNIAN'S MOVEMENT
-----Character
The ball contain with the bio-ceramic that have been treated by 228 mineral resources, can change the structure of the water molecule into the small molecule.
With this effect, the water has strong permeability that can dissolve the pesticides, and reduce the adhesion that strip away all the dirt, and contain high oxygen that can restrain the growth of germ.
------The effect
1. Reduce the remains of some material of fluoresce, prevent to have the skin cancer.
2. Strength the washing power, saving the 1/3 washing powder.
3. With 299000hz/sec high speedy vibration, can raise all tiny dirt from the fiber, the clothes will maintain soft and elastic.
4. Prevent the mold and reduce the pollution of the environments.
Attention : This product is not fit for automatic dry washing machine, it can be use for 2 years.