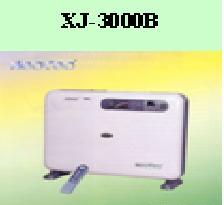 Air Purifier with Arion Generator

Perfect Filter and dust collection equipment

Large capacity,low noise, low energy consumption power system

3 level speed change, 735 hrs timer operation

Remote control, practical and convenient

Kill Bacteria and virus, prevent disease from spreading

Efficiently filter out pollutants and allergens

Luxurious new design make your living room warm and elegant

Removes smoke and other pleasant odor neutralizes poisonous and harmful gases
Perfect for reducing and eliminating dust, odors, viruses, microbes, allergens, chemicals and other polluntants from the air.
Uses a pre-filter meshed, non-woven fabric filter layer with high efficiency active carbon filament absorption material. Filter can be replaced simply by removing the filter frame from the bottom of the purifier.
The XJ-3000B gives you the combined technologies of negative ionization, HEPA filter dust filtration and the power of on command ozone sterilization for odors when you need it. An ideal air purifier for the home, office, hotels and hospitals.
Please contact us at 603-92746932 for quotation and more details about this product.