About PC Labels Sdn Bhd
PC Labels Sdn Bhd was incorporated on8 August 1996 it is involved in manufacturing of self adhesive labels and stickers for industrial and commercial customers.
PC Labels Sdn Bhd commenced operation in 2000 and is today one of the leading Malaysia producer of quality.
At PC Labels Sdn Bhd, we are committed to total quality and customer service. We are also improving our production facilities to increase output efficiencies and value added products for our customer delivered with a 100% money back guaranteed that they will stick. This includes a successful effort in upgrade our quality accreditation from SIRIM to Ms ISO 9001 : 2000 in 28 Oct 2004. We have a Killed and experienced workforce which contributes to our high operation efficiency and productivity.
Through our efforts to improve and deliver, customer can confidently rely PC Labels Sdn Bhd as a good service, quality and responsive manufacturing partner who in ready to help them to increase their competitiveness.
---
Board of Directors
The board of directors to PC Labels and their profile are set out below :
Alwin Lim Kok Lum
Alwin Lim, aged 38 was appointed to the Board of PC Labels as a Manager Director on 28 November 2000. Since then he is responsible for the overall management, marketing and day-to-day operations of the company. He has extensive sales and marketing experience having worked in self-adhesive labels, stickers, printing and packaging products for more than 19 years, amongst which were being the Marketing Executive in various labels and stickers companies for 4 years from 1987 to 1990, Assistant Marketing in Inter-Pacific Packaging Sdn Bhd for 10 years from 1991 to 2000.
Alwin Lim Kok Lum is a respected marketing man in the labels, stickers, printing and packaging industry, a reputation gain through his consistent monthly million dollars sales achievement. With his established business record, he will be able to provide invaluable advice on achieving high turnover and create business opportunities to the company in the future.
Low Wei Keong
Low Wei Keong, aged 38 was appointed to the Board of PC Labels on 28 November 2000. He has extensive technical and production experience in the food industry for more than 17 years, amongst which as a Technical Supervisor in various multinational food and beverage manufacturing for 6 years from 1988 to 1993 and Factory Manager in Tien Ming Confectionary Trading Sdn Bhd for 11 years from 1994 to 2005. He is responsible for the overall technical and maintenance function of the company.
---
Organisation Chart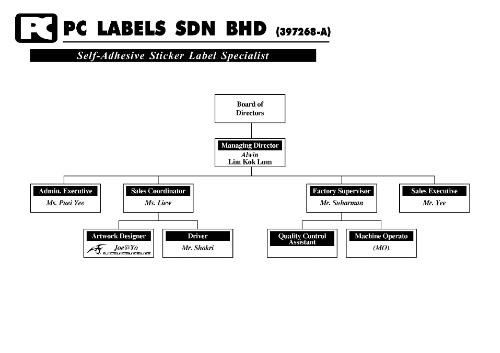 Listed below is the brief information of this Company :
Office Address

:

No.30, Jalan KIP 10, Taman Perindustrian KIP, 52200 Kuala Lumpur

Tel

:

603-6272 8663 / 6274 8663

Fax

:

603-6275 4663

Email

:

Registered Office

:

No.2-12 (2nd Floor), Jalan PJU 8/3, Perdana Business Centre, Bandar Damansara Perdana, 47820 Petaling Jaya, Sel.

Year Incorporated

:

8 August 2000

Director

:

Mr. Alwin Lim

Paid up Capital

:

RM 300,000 (to increase to RM500,000 soon)

Banker

:

Public Bank Berhad

No 13, Jalan Tembaga 5D 5/2A, Bandar Sri Damansara 52200 Kuala Lumpur.

Auditors

:

M/S Halim Wong & Associates

Chartered Accountants (Malaysia)

No. 2-12 (Suite 1), Jalan PJU 8/3, Perdana Business Centre,

Bandar Damansara Perdana, 47820 PJ Selangor.

Quality Accreditation

:

Awarded recognized MS ISO 9001:2000 Certification in 28 Oct 2005

Factory Premises

Tenure of land

:

Free Hold

Built up Area

:

4000 sq ft with the whole plant protected by Sprinkler system fire protection.

Manpower

Administration

:

4

Production

:

11
---
Plant & Machinery
Label Printing Machine : (2 units)
Sonata Automatic with Auto Slitter, Rewinder.

Model – DLP400LMPH ( Digit Feed) South Korea

Hae Dong 2750 (Digit Feed) South Korea
Rotary machine :
Semi Rotary Machine, model Lintex SL260, Japan

Super -320 Shoftless Fully Automatic overprint lntermitent
The Company is confident that with the above machines, it will have a competitive edge over its competitions.
---
Main Raw Materials Suppliers
Local Self-adhesive labels :
The local self-adhesive labels can be Emily purchased in the local market. The Company will maintain a pool of Suppliers in order to Spread the risk of non-delivery by any one of the Suppliers and at the same time maintain good and long standing relationship with them.
---
Top 10 Major Customer
Tien Ming Confectionery Trading Sdn Bhd

Auto Air Industry Sdn Bhd

Hoe Pharmaceuticals Sdn Bhd

Sumitomo Magnet Wire (M) Sdn Bhd

Cocoland Industry Sdn Bhd

British American Tobacco (M) Berhad

FMP Automotive (M) Sdn Bhd
End-users are the manufacturers and Producers of the Following Product :
Electrical and Electronics

Processed Packaged Food and Beverages

Chemical and Automotive Products
---
Dependence on Key Personnel
The company believes its future success will depend upon its ability to attract and retain skilled personnel. Therefore, effort to employ skilled and senior staff with many years of experience in production and marketing will definitely ensure the continuing success.
Based on the dedicated service of its directors and senior staff, the company will poise to grow as a successful entity.