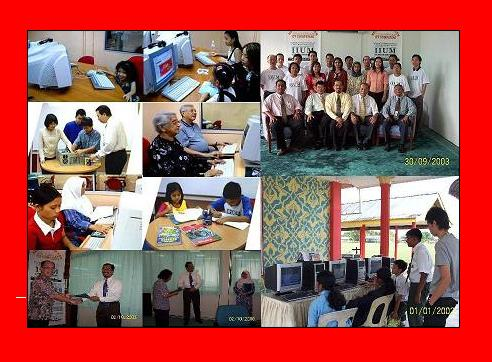 Company Name

:

Quality Performance Resources Sdn. Bhd.

Business Reg. No

:

613851-M

Date of Incorporation

:

30 April 2003

Address

:

No. 6, Lorong 55,

Taman Petani Jaya,

08000 Sungai Petani,Kedah, Malaysia.
Quality Performance Resources provides a wide array of multimedia educational products like CD-ROM Education Series, ICT, Training and Consultancy Programs. Quality Performance Resources Sdn. Bhd. (formerly known as Ong IMediaCom Sdn.Bhd.) is a Malaysian company that was established in 2003. Our focus is ICT Education, Training and Consultancy for multinational companies, small medium industries and end-users.

We offer ICT Training for Kids and Teens from as young as 2 ½ years old, for Adults, and for Senior Citizens. Packaged Training in Quality Management, Occupational Safety,Health, Environment, Fire & Energy Management Systems and Lifelong Learning/Tutoring skills are also offered. Our programmes allow tutors to teach IT Skills whilst integrating them into the school curriculum.
While our mainstream service is distributing Smart School Multimedia Courseware CD-ROM, children books and VCDs, the company has also ensured that it met the requirements of the education system, with emphasis on self-study. Carefully-selected subjects including rhymes, fairytales, flags, pre-school English, daily English conversation, English for beginners and other topics are printed in easy-to-read and easy-to-understand format, for sound comprehension.

Over the years the company has grown, progressing from just a handful of titles to a full range which is being constantly reviewed, updated and expanded. Through our well established dealer oulets and online sellings all over the country.

The company's mission is to continue promoting CD-ROM, books, VCDs and services of high quality which are competitively priced, so as to make them available to a wider customer base in the country and continue to refine our quality management process to ensure customers receive quality products and solutions at a very affordable price.
The company is backed by a management team which has more than ten years' background in the training and services business, as well as experienced and dedicated trainers, consultants, specialists and marketing personnels.

We are constantly seeking innovative ways to improve our range of products and services. Our aim is to be widely recognised as a one-stop lifelong learning centre offering high-quality yet affordable educational CD-ROM, books,VCDs and training & consultancy programs. Our customer-friendly approach and our untiring efforts at producing top quality products and services form the guiding principle of the company. Last but not least, we also believe in growing together with customers and business partners alike; understanding their worth as a key factor to our continued success.