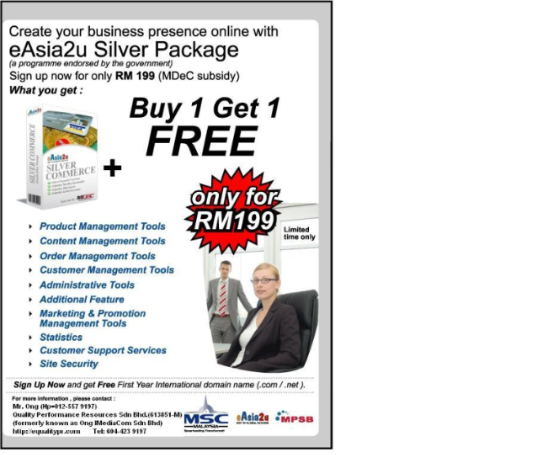 http://www.easia2u.com/eAsia2u/english/membership/merchant_signin.jsp
Your Online Business Made Easy !
We are pleased to extend our welcome to your esteemed organization to join this prestigious programme initiated by MDeC (Multimedia Development Corporation) to drive the adoption of E-Commerce by SMEs in Malaysia. The eAsia2u E-Commerce Affiliate programme is an end-to-end customised proprietary e-commerce solution managed by MPSB enabling SMEs to instantly offer their products for sale "online" and make it available to anyone, anywhere, anytime.
This programme is open to Malaysian owned SMEs from various industries that have keen interest in exploring or expanding their current businesses to the borderless and potential internet businesses.
Here is what you get when you sign up as our Affiliate:
| | |
| --- | --- |
| | |
| | We help you to build and manage your online sales channel with UNBELIEVABLE LOW PRICE, |
| | You may sell your product and accepting CREDIT CARD PAYMENT ONLINE |
The Affiliate Programme includes:
1.
Web Commerce Engine

eAsia2u Silver Commerce Package (to view other available package, please click here) and Online Credit Card Payment Services

2.
eAsia2u Landing Page Advertising Banner
3.
Content Management

eAsia2u Customer support will work closely with you in all contents related write up, e.g the company profile and its products and services

4.
Order Management

eAsia2u Customer support will help Internet Merchant to manage all online sales and purchases
All successful online sales will be made known to you within 24 hours
Delivery will be manage by your company following shipping terms defined
Start your company's online presence and businesses today and take full advantage of advertising and selling your products and services on the internet! You maybe on your way to be the next Internet Millionaire!