My eAsia2u is a private communication and management tools provided to Merchant to develop and manage their website and online activities.

To access your My eAsia2u Merchant tools, please click on 'Sign In', select 'Merchant Sign In'. Enter your Merchant ID and password to log in.


After log in, you will be lead to Welcome page where it show the overview of eAsia2u tools. The navigation bar on the left allow you to use all the management tools easily.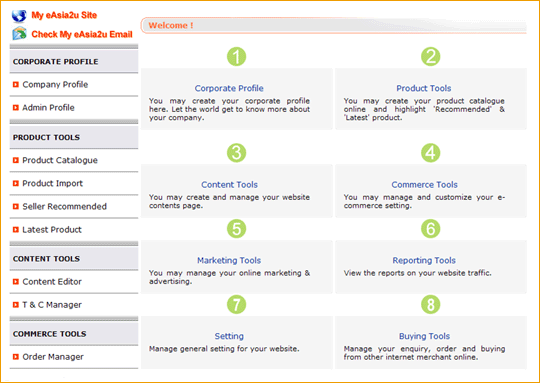 Merchant Tools
The main tools of My eAsia2u are 'Corporate Tools', 'Product Tools', 'Content Tools', 'Commerce Tools', 'Marketing Tools', 'Reporting Tools', 'Setting' and 'Buying Tools'.