eAsia2u enable the merchant to create the company product catalogue to be view by the potential buyers/sellers by using the Product Tools. This tool helps you to manage your company product and services catalogue easily. The four main tools are 'Product Catalogue', 'Product Import', 'Seller Recommended' and 'Latest Product'.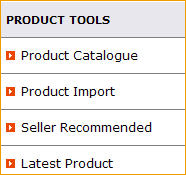 Product Tools
Product Catalogue
The Products Catalogue Tools enables you to manage the number of categories in the catalogue as well as the number of product items available in the catalogue. You may perform the following tasks by using the Product Catalogue:
To start using this tools, go to Product Tools > Product Catalogue
Whenn you click on Product Catalogue, there will be a pop up window showing the following:

You will see the name of your company on the left column, which is your Root Category.
By using this tools, you may
Product Import
Product Import is another way to update your product catalogue if you wish to update many products in a short time. Follow the guidelines and import your product details to create Product Catalogue.
Click here to follow the steps on how to use the Product Import tools.
Seller Recommended
Seller Recommended is a tools to highlight product that you wish to promote or recommend to customer from your product list
The products that you selected as Seller Recommended will be show on your website homepage. You may customize your recommended product from time to time.
Latest Product
Latest Product is a tools to highlight your company latest or newly lauched product from your customer list.
This tools enable you to intorduce your company new product to customer or buyer. You may customize your recommended product from time to time.