eAsia2u enable Merchant to customize and manage online commerce with Commerce Tools. You may use this tools to manage your order from customer, customize shipping cost and information and selling region.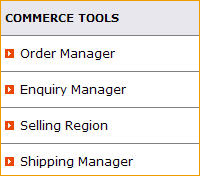 Commerce Tools
The main tools of Commerce Tools are:
a) Order Manager
b) Enquiry Manager
c) Delivery Tools
With these three tools, you are able to organize and manage your selling online and delivery more effective.